If your patio design looks lackluster, consider giving it a makeover with faux stone wall panels from AZ Faux. This weekend project will add instant curb appeal to your home, and it's much easier than you might think.
AZ Faux provides an extensive selection of faux stone paneling for you to choose from. Our selection lets you find the perfect appearance for your residence's exterior design! Once your faux stone exterior wall panels are installed, you can incorporate other patio furniture and decorations to create a cozy external area. Décor, like potted plants, string lights, and comfortable seating, will prepare you to enjoy your new patio all summer.
Why use faux stone in your patio upgrade?
When it comes to designing an inviting and aesthetically pleasing patio, incorporating natural elements can transform your outdoor space into a haven of relaxation. Faux wall panels offer a versatile and cost-effective way to bring the beauty of stone into your patio design. In this blog, we will explore three inspiring ideas for using faux stone wall panels to enhance your exterior patio: stone accent walls, faux stone columns, and faux stone patio bars. Let's dive in and discover how these elements can elevate your outdoor living experience.
Stone Accent Walls:
Creating a stone accent wall is an excellent way to add texture, depth, and visual interest to your patio. Faux stone wall panels make it easy to achieve the look of authentic stone without the high costs and labor-intensive installation. You can choose from a wide variety of stone patterns and colors, allowing you to match the style and ambiance of your outdoor space. Consider placing a stone accent wall behind a seating area or as a backdrop for a water feature, fire pit, or outdoor kitchen. The natural appeal of the faux stone panel will instantly elevate the overall look and feel of your patio.
Our faux stone wall paneling is heavily resistant to weather conditions, pests, and warping. They will stand with your patio design for years to come!
Faux Stone Columns: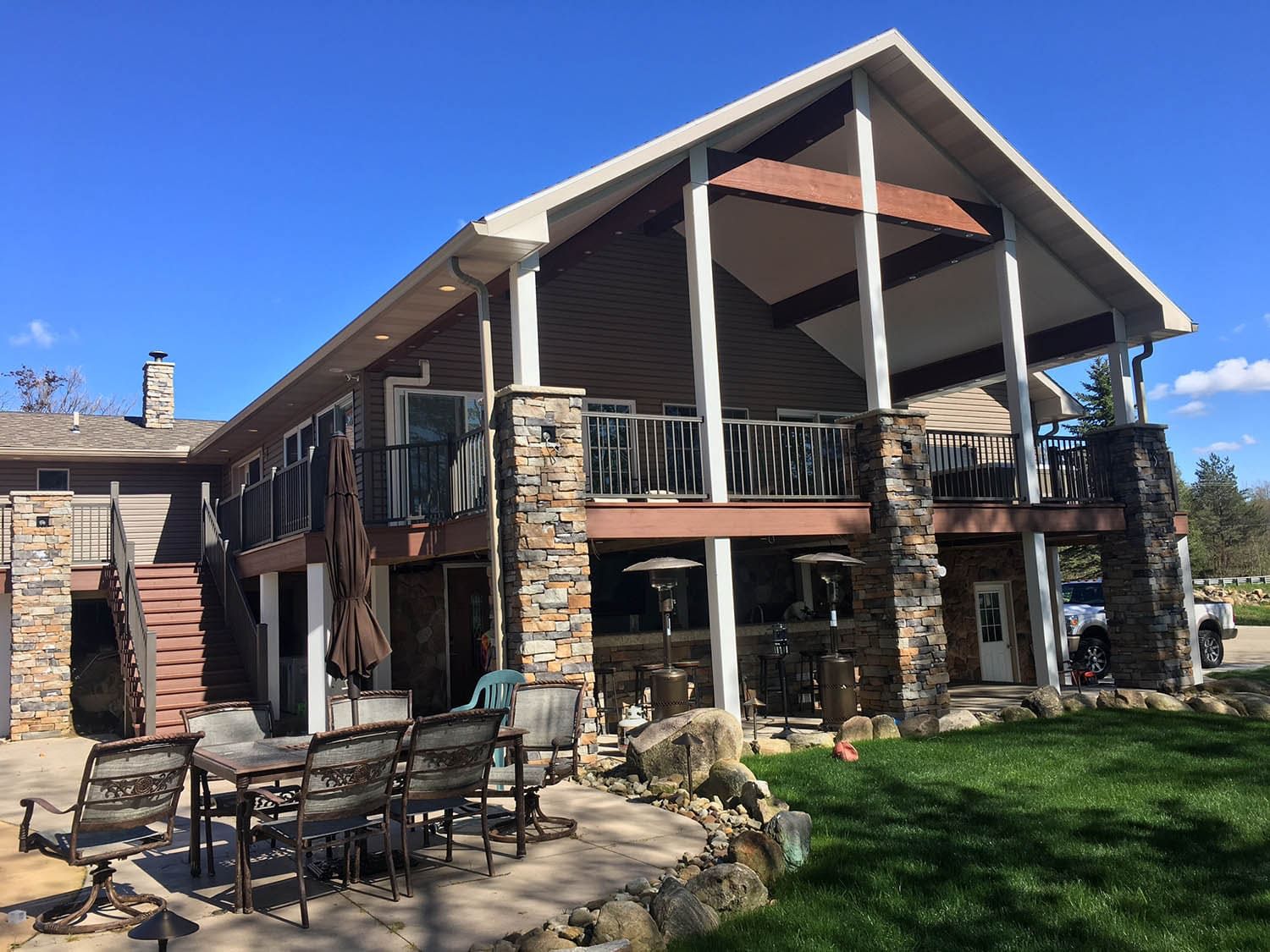 Incorporating faux stone columns into your patio design is a fantastic idea if you desire elegance and sophistication. These columns not only add architectural interest but also create a sense of grandeur. Stone wall panels can be used to wrap existing columns. Faux stone elevates the feel and look of your column without having to break the bank with natural masonry columns.
With the realistic textures and color variations of our wall panels, your columns can mimic the appearance of real stone. Providing a visually striking element that complements various patio styles. Place them strategically at the entrance of your patio or along walkways to create a captivating and inviting ambiance.
Faux Stone Patio Bars:
Transforming your patio into an outdoor entertainment space is easy with a faux stone patio bar. A patio bar with stone wall panels is an attractive and affordable way to create a stylish and functional space for entertaining guests. Your faux stone patio bar can be used to serve drinks, provide seating, and provide a place for friends and family to gather. The faux stone paneling provides a natural and rustic look that will enhance any outdoor space. Adding a few accessories allows you to easily create a comfortable and inviting atmosphere for your outdoor gatherings.
Whether you enjoy hosting parties or prefer intimate gatherings with friends and family, a well-designed bar area can become the focal point of your patio. Faux stone wall panels can be used to construct the bar counter and the surrounding façade, creating a luxurious and rustic aesthetic. Incorporate built-in shelves or cabinets behind the bar for storage and display. Consider adding barstools and pendant lighting to complete the look. This stylish and functional addition will undoubtedly elevate your outdoor entertaining experience.
Get started with your faux stone patio renovation!
When it comes to designing a remarkable exterior patio, faux stone wall panels offer endless possibilities. Whether you choose to create exterior wall finishes, incorporate faux stone columns, or construct a faux stone patio bar, these design ideas can transform your outdoor space into a visually stunning and inviting retreat. The versatility and affordability of faux stone make it an excellent choice for homeowners who desire the beauty of stone without the hassle and expense. So, why wait? Get creative and bring the timeless elegance of stone to your patio with exterior wall panels today!