Farmhouse kitchens are rustic, yet functional, and have been a trending style for countless homeowners who share the goal of redesigning their kitchens. There are multiple ways to achieve a farmhouse kitchen design, fortunately, many are simple, DIY projects!
Faux wood beams and faux wood shelves are a cost-effective, realistic alternative to solid wood and make an amazing component to any farmhouse kitchen. Whether your goal is to have a classic look or a more modern flair, faux wood materials can help you easily achieve the kitchen of your dreams.
Modern vs. Classic Farmhouse Design
Farmhouse design, while a relatively new trend, is not a new concept, and has a historic place within American decor.
Classic farmhouse design features the use of natural wood, cotton fabrics, and antique furniture. With modern farmhouse design, there is a twist of smooth lines and contemporary feels. Classic farmhouses seem to be more cozy and rustic while modern farmhouses have a comfortable, slightly industrial style.
The two complement and overlap one another in many unique ways. They both rely on the use of neutral colors, natural materials, and timeless design elements. Both styles of farmhouse can utilize wood beams to help take a kitchen from plain to rustic with ease and style.
Keep reading to learn more about how to design a farmhouse kitchen with faux beams.
Why Utilize Faux Wood for Your Farmhouse Kitchen Project?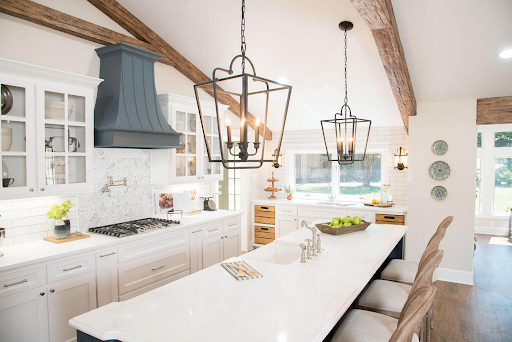 You might be hesitant to use solid wood beams because of their price and weight, but utilizing faux wood beams in your farmhouse kitchen can truly upscale your space for less than real wood. There are many other benefits to using faux wood beams besides just the price.
Exact color match - With faux wood beams, you are not as limited to the texture and color as you are with natural materials. This affords you more control over the exact look of your beams.
Various Length Options - Looking for a certain beam length? AZ Faux can customize your beam from 8' up to 30' without visible seams to give the illusion of one solid beam.
High durability - Natural wood is prone to cracks and splitting, whereas faux wood is more resistant to this kind of wear. In a kitchen that is susceptible to moisture, this can make a huge difference in how long your beams last.
Easy installation - Because faux wood beams are hollow on the inside, they are much lighter and easier to install than solid wood beams. Ease of installation means you can upgrade your farmhouse kitchen with faux beams as part of your DIY project.
Termite resistant - Termites and other pests are attracted to real wood, but they are not nearly as interested in faux wood. This is another huge plus to using faux wood beams in your farmhouse kitchen design.
Whether your motivation is finding a user-friendly material, achieving long-lasting durability, or saving money, faux wood beams are an excellent option for your farmhouse kitchen.
Consider a Coffered Ceiling in Your Farmhouse Kitchen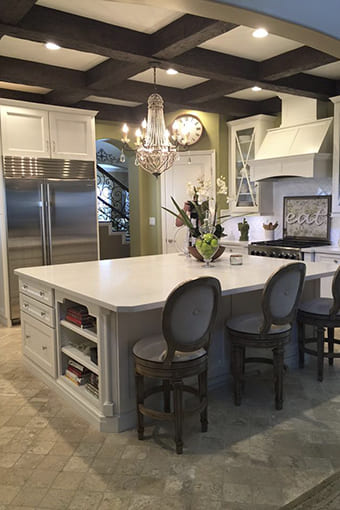 Coffered ceilings are a great way to upgrade your farmhouse kitchen design with a classical, yet rustic look. Coffered ceilings use wood beams to create a boxy pattern across your ceiling, drawing the eyes up and outwards and making your kitchen space look larger.
Keep in mind that coffered ceilings work best with higher ceilings, as they may be too overwhelming for kitchens with lower ceilings.
Other Farmhouse Kitchen Design Ideas
Besides wood beams and coffered ceilings, there are many ways to bring the modern and classic farmhouse design into your kitchen. One of the easiest options is to upgrade your sink to a porcelain apron sink, which is a class farmhouse kitchen design element.
Another idea is to add free-standing wood shelves. These look and feel much lighter than cabinetry and provide ease of access and increased functionality. You're not restricted by shelf height or doors, so store and display what you please. This is an opportunity to add character and aesthetic to the space, with a mix of dishes, serving ware, and decorative kitchen items alike.
Consider choosing floating shelves to complement your kitchen's faux wood beams. This will help highlight the natural materials you've chosen for your farmhouse kitchen design.
At AZ Faux, we can customize the size of your faux wood shelves and faux wood beams to ensure they are a perfect match for your space.
For more farmhouse design and faux wood beam inspiration, see us featured in the HGTV® Dream Home 2022.