Are you on the search for a unique way to upgrade a fireplace in your home? Consider installing faux stone panels along the mantel and frame for an instant DIY fireplace refresh!
Faux stone panels are incredibly beneficial because they are affordable, durable, and may boost your property value — what's not to like about that? Plus, they are a great way to update your space without having to demo your existing fireplace.
If you are not sure how to install faux stone panels on a fireplace, don't fret. We have broken down the process step-by-step so it's as easy and DIY-friendly as possible.
Helpful Tips for Successful Installation
Before we walk you through the faux stone panel installation process, we'll share some helpful tips to ensure a quick, safe, and successful installation.
At AZ Faux, we carry a wide variety of faux stone panels that vary in different styles and colors. If you're unsure of which panel is best for your fireplace, order a sample of your favorite panels so you can assess the color and style in your space before ordering.
Panels cannot be adhered to walls that are weak, or in poor condition. Before you get started, inspect your fireplace thoroughly. If it's not structurally sound, it may not hold the weight of the faux stone panels.
Be sure to follow all applicable building codes and comply with clearances set forth by the manufacturer of your fireplace. Always leave a non-flammable border of at least 6" between the fire box and the panels.
At least 24 hours before installation, lay your panels on a flat surface away from moisture, direct sunlight, and heat sources. This will allow them time to acclimate to the installation location.
Below is an overview of how to install faux stone panels on a fireplace. When you're ready to install, follow our detailed installation guide.
Materials Needed
Gather the following tools and materials:
Caulk gun
Chalk line or laser
Clean cloth
Color-coordinating textured caulk
Cotton swabs
Level
Loctite PL Premium 3X Construction Adhesive
Panels
Pencil
Safety Glasses
Small Paint Brush
T-Square
Tack cloth
Tape measure
Touch-up kit
Water
Woodcutting saw with finish blade
Faux stone panels can be installed in one of two ways:
Adhesive only (over concrete, masonry, or metal) or
Adhesive and fastener method (recommended)
If you choose to install using the adhesive-only method, you'll need these additional materials:
Disposable gloves
Great Stuff Applicator Gun
Great Stuff Pro Gun Cleaner
Great Stuff Pro Construction Adhesive
If you choose to install using the recommended adhesive and fastener method, you'll need these additional materials:
Deck screws
Screw gun/drill driver and driver bits
Guide for Installing Faux Stone Panels On a Fireplace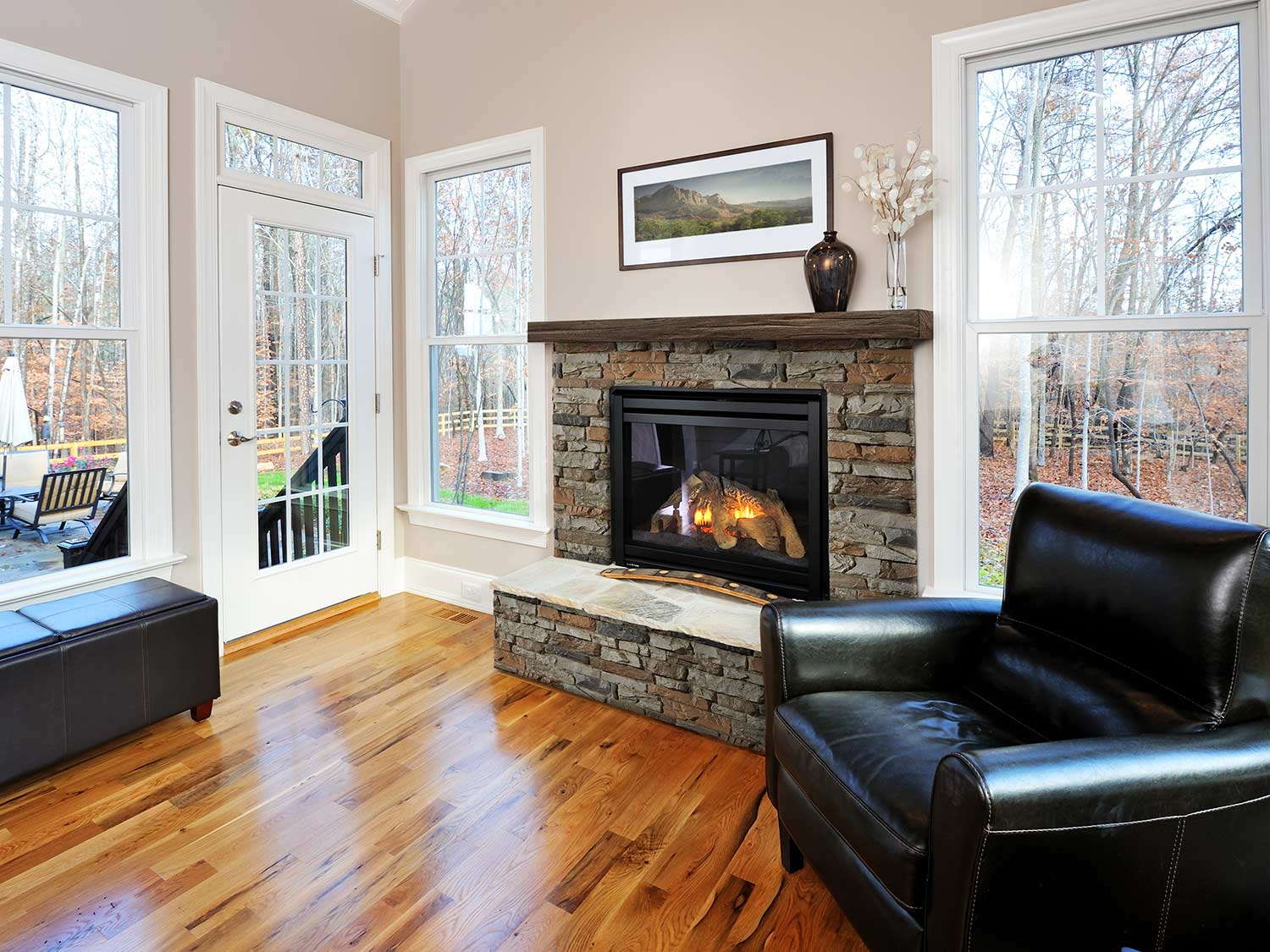 Now that you've prepped your space, gathered materials and tools, and found an amazing faux stone panel for your DIY fireplace project, it's time to get started!
Step 1. Determine the installation order of the panels
Your panels can only be installed in one direction, depending on the panel style. So, you need to determine which direction your installation should flow. To do this, simply orient one of your panels so that the flat lip (A) is up. If the fingers of your panel project to the left, you will install left to right. If the fingers are on the right side of your panel, you'll install from right to left.

Step 2. Prepare your surfaces
Panels adhere best to clean surfaces. To ensure a strong bond, use a clean cloth to wipe the surfaces of your panels and your fireplace to get rid of any debris, dirt, or dust. If the surface of your fireplace is hard, you may need to use a wire brush to remove loose debris.
Step 3. Trim the first panel
If you are installing interlocking corners, skip this step.
Turn your first panel over and mark where you intend to cut it. Trim the panel, using a wood cutting saw with a finish blade. To minimize waste, cut off at least ¼ of the panel.
Step 4. Draw your level line
Find the high point on the floor/ground using a level. Place a full-size panel against the surface of your fireplace and mark the height. Extend your level line across the length of the fireplace.
Step 5. Apply adhesive
If you're installing using the adhesive and fastener method, apply beads of adhesive to the back of the panel in vertical lines spaced no more than 3" apart. Then, add a dab of adhesive to the back of each finger.
If you're installing using the adhesive-only method, apply beads of Great Stuff ProTM Construction Adhesive to the back of the panel in vertical lines starting 2" from the edge and in 6" increments along the interior of the panel. Then, dab the back of each panel finger.
Step 6. Adhere the panel to the fireplace surface
Use a slight twisting motion to ensure good contact between the panel and the fireplace surface. Make sure the panel is level and lines up with your level line, and is plumb with the edge of the fireplace surface.
Step 7. Screw panel to the fireplace surface
If you're using the adhesive-only method, skip this step.
Using deck screws, secure the faux stone panel to the fireplace by placing screws under protruding stones or in the grout lines to make them less noticeable. You should install one screw per foot along the perimeter and one screw per square foot in the middle of the panel.
It's important not to overtighten the screws as it could damage the panels.
Step 8. Add adhesive and caulk
Before installing the next faux stone panel, add adhesive and caulk to the lip of the panel, about 1 inch from the face. Then, apply a bead of textured caulk where the face meets the panel.
The adhesive helps minimize gaps due to seasonal expansion and contraction. The caulk will keep any moisture out. Use a clean cloth to wipe away any excess before it dries.
Step 9. Repeat steps 5-8
Be sure your panels fit tightly together, and continue following your level line. Dry fit each panel before applying adhesive to ensure it fits flush. Trim if necessary. The last panel on the row will have to be trimmed from the finger side of the panel. Wipe off any excess caulk or adhesive before it dries.
Helpful hint: To reduce waste and save some cash, check to see if a panel you previously cut can be used to finish a row before you cut a full-size panel.
Step 10. Start the next row
Start your next row directly above the first panel you installed.
For a more realistic look, trim the first panel of the next row so that when installed the seams will be offset. You may be able to use a portion of a panel from another part of the job.
Before installing each panel on the next row, apply adhesive to the top lip of the panel below it.
Take care when placing the panel to ensure a tight fit with the panel below. Your panels should come together to create a shiplap joint.
Step 11. Touch-up as needed
Your installation is almost complete. Now it's time to make those final touches.
Seal any mitered joints and where a panel butts against another surface (like a wall adjoining your fireplace) using a bead of caulk.
Add caulk to fill in voids, gaps, and holes from screw heads and blend before it dries.
Use your touch-up kit and paint as needed to hide any imperfections and to create the most realistic stone look possible.
Faux Stone Fireplace Installation FAQs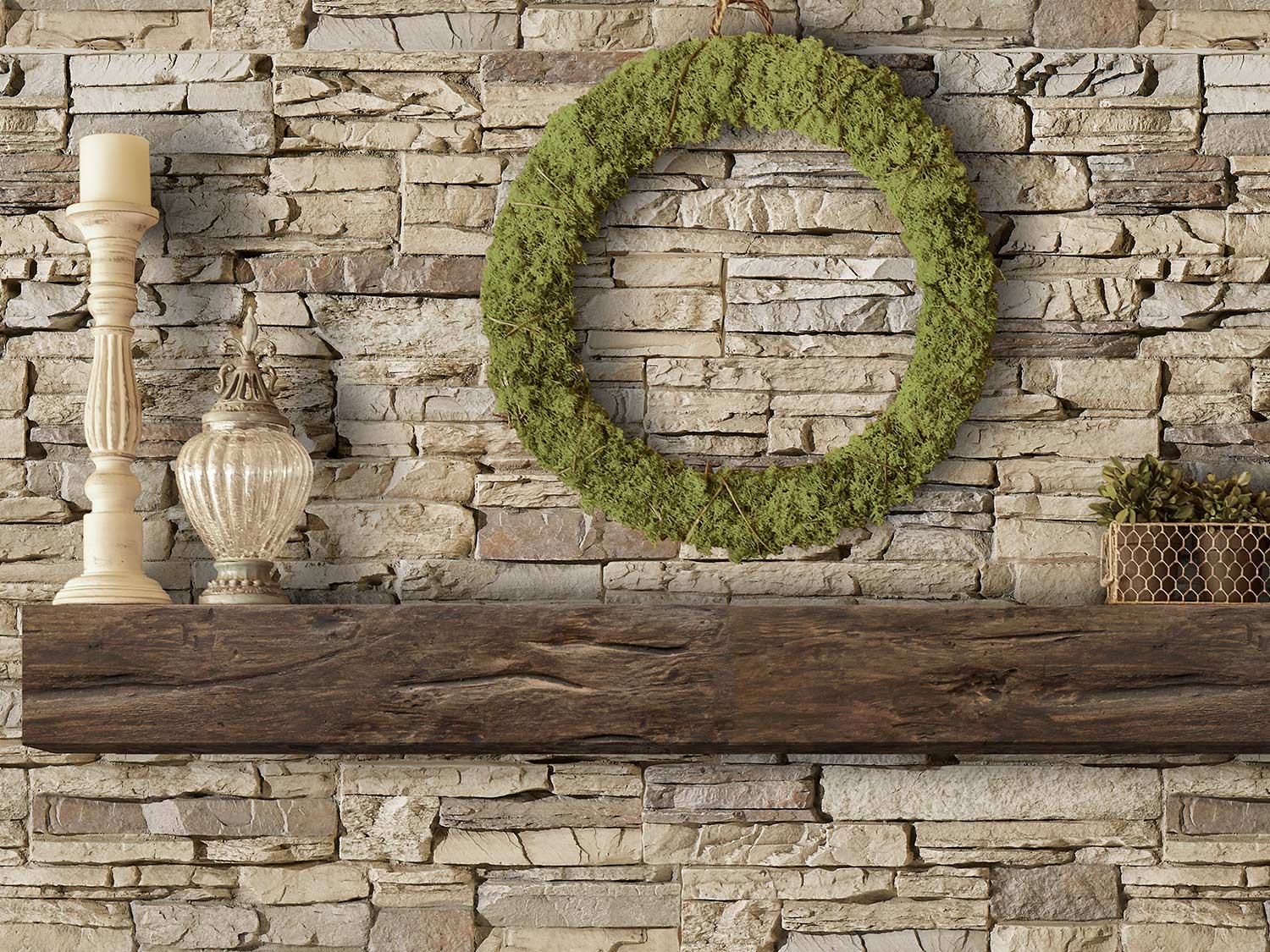 As with any DIY project, you're bound to have questions. That's why we're here to offer any help you need along the way. Here are some common FAQs about how to install faux stone panels on a fireplace.
What are the benefits of using faux stone panels?
There are many pros to using faux stone panels on your fireplace instead of real stone. A few of the benefits of faux stone panels include:
More affordable than real stone
Reduced labor
More lightweight than real stone
User-friendly
Requires little to no maintenance
Better consistency in the stone design
Less messy to install
Can you put faux stone panels over a brick fireplace?
Yes! Because faux stone panels use adhesive, they can adhere to existing brick, concrete, metal, or masonry fireplaces. This can be an excellent time and money saver for you to have the fireplace of your dreams without having to demo a thing!
Looking to upgrade your fireplace with faux brick instead of stone? You can do that too! Check out our step-by-step guide for installing faux brick panels on your fireplace.
What are the best practices for fire safety?
Most of our products can be used around a fireplace opening, insert, or stove provided you follow the fireplace insert/stove manufacturer's specifications for required clearances.
Faux stone panels beautifully mimic the look and feel of natural stone, but they are not the real thing. If you plan to install your panels close to live flames, you must follow all building codes and instructions provided by the manufacturer of the fireplace insert.
Always leave a non-flammable border of at least 6" between the fire box and the panels. Some local building codes may require a larger border. Faux panels are not to be installed on the hearth.
Start Your Faux Stone Fireplace Project Today!
From the living room to the bedroom, fireplaces bring warmth and coziness wherever they are in the home. If your fireplace is outdated or doesn't offer that wow factor you're after, you're in luck. Faux stone panels are a wonderfully affordable and realistic way to refresh your fireplace to be just the focal point your space needs.
Are you ready to upgrade your fireplace with faux stone panels? Check out our collection below to find the perfect style of faux stone for your home.