Do you have an old tile wall or other tiled surface in your home that's a little dated? Perhaps you've been dying to remove it, but you're unsure of what to put in its place, and you want to avoid the mess of tile demolition.
Faux stone and brick wall panels can be fitted directly over your existing tile for an affordable home transformation, that eliminates the need for a hammer and chisel. Here, we're walking you through the simple panel over tile installation process and highlighting ideas you can use in your home.
So, Can Wall Panels Be Fitted Over Tile?
Yes, it's that easy! You can fit wall panels directly over tiles in any room in your home. Using construction-grade adhesive, faux brick or stone panels can completely transform a room without the need to remove existing tiles first. This can save you time and money while achieving the beautiful final product you want.
From gorgeous natural-looking stacked stone to the rustic old-world look of brick, faux wall panels seamlessly blend into any room.
Note: Wall panels can be fitted directly over tiles that have a flat surface. If your tile is extremely textured and uneven, panels won't adhere properly, and the tile will need to be removed before installation.
Faux Wall Panels vs. Real Stone and Brick
Faux wall panels are cast from molds of real stone and brick giving each panel the same look and texture as the natural materials. Made from high-density polyurethane, faux wall panels are durable, and won't crack, split, or fade.
Unlike real stone and brick, faux wall panels are lightweight and DIY-friendly. Using basic tools and materials, you can install wall panels over tile in just a few hours. When it comes to cost, faux wall panels are cheaper to purchase, ship, and install compared to real stone and brick.
Faux wall panels come in a range of styles and colors – both brick and stone. Their customizable nature is perfect for various design projects.
Ideas For Using Wall Panels Over Tile
There are many areas in your home where tile can be replaced with faux panels. Faux stone and brick can bring a natural, warm, and welcoming element to your home – indoors and outdoors. Here are some popular design ideas that use faux wall panels.
Take the tile in your kitchen from drab to dramatic
Make a statement in your kitchen with minimal effort. If the tile surrounding your kitchen island needs an upgrade, cover it with stacked stone panels to add texture and rugged beauty.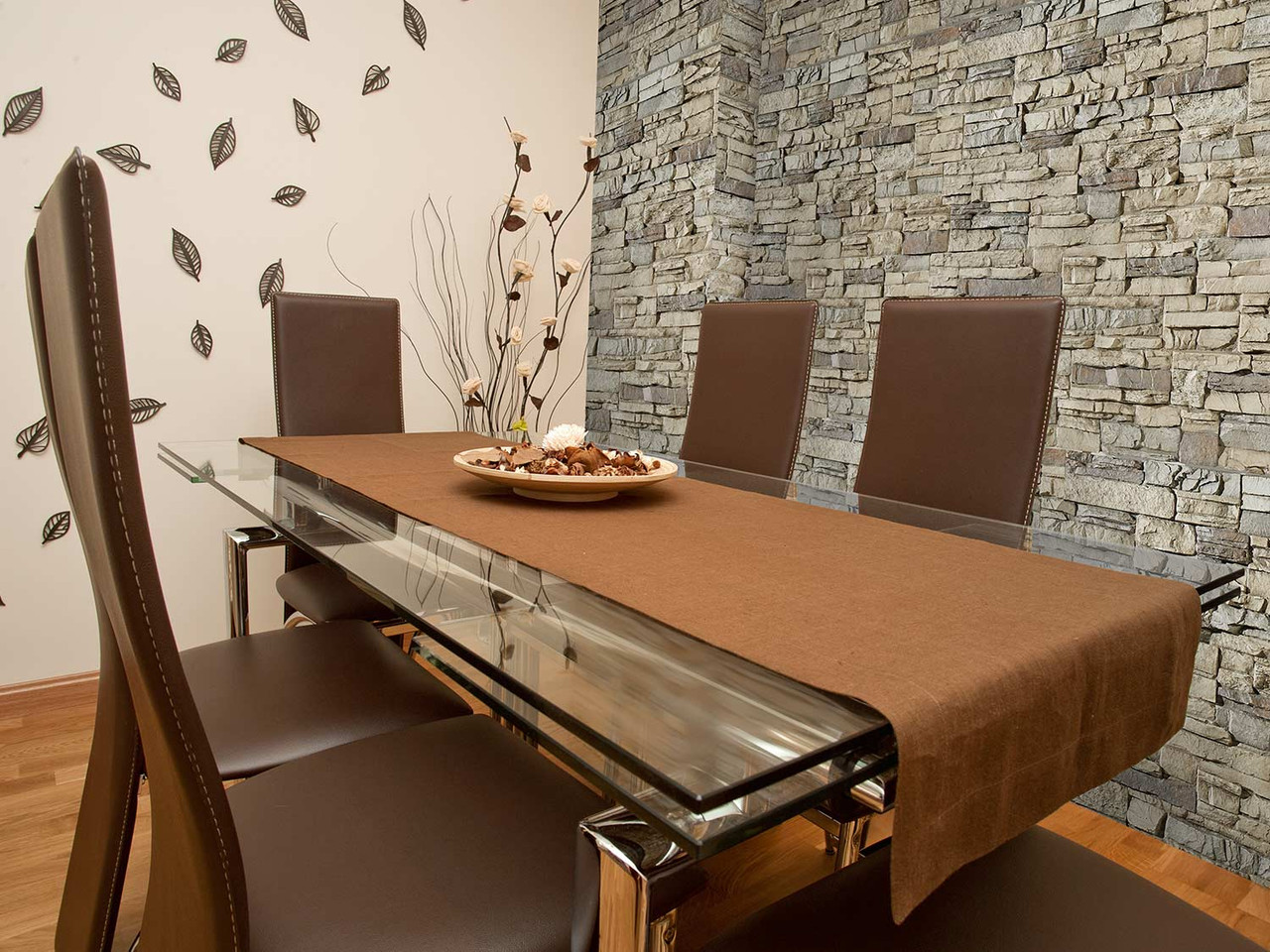 Some kitchens and dining rooms have a tiled feature wall to define the space. Give that wall a whole new look using Denver dry stack faux wall panels.
Invite natural ambiance to your bathroom walls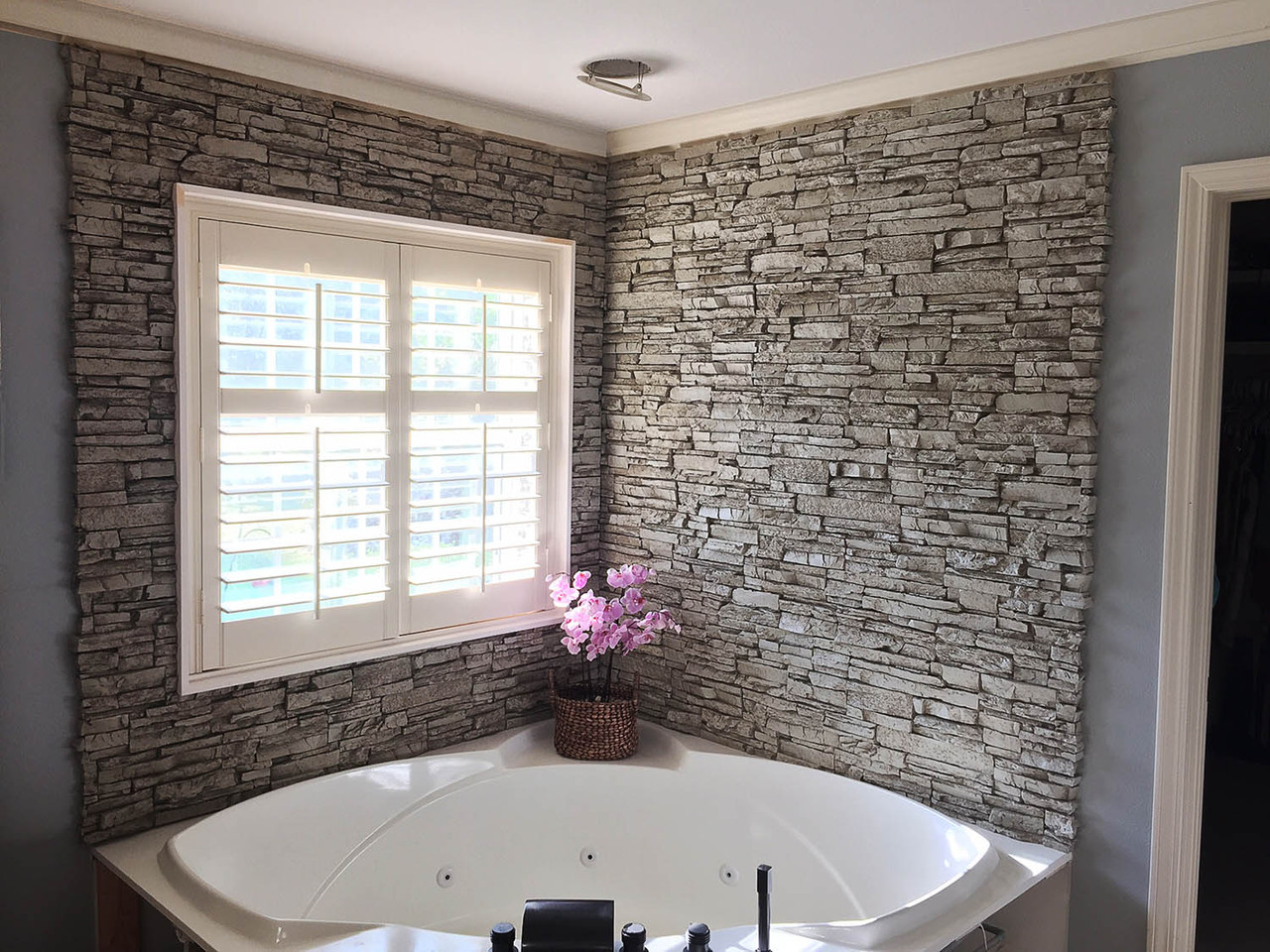 If you are embarking on a bathroom renovation and want to incorporate natural ambiance, faux stone or brick panels can achieve this without mess or stress. Cover a tiled accent wall with the contemporary look of Denver stacked stone wall panels or use Old Medford faux brick wall panels for a classic look.
Bring natural energy to your outdoor kitchen or bar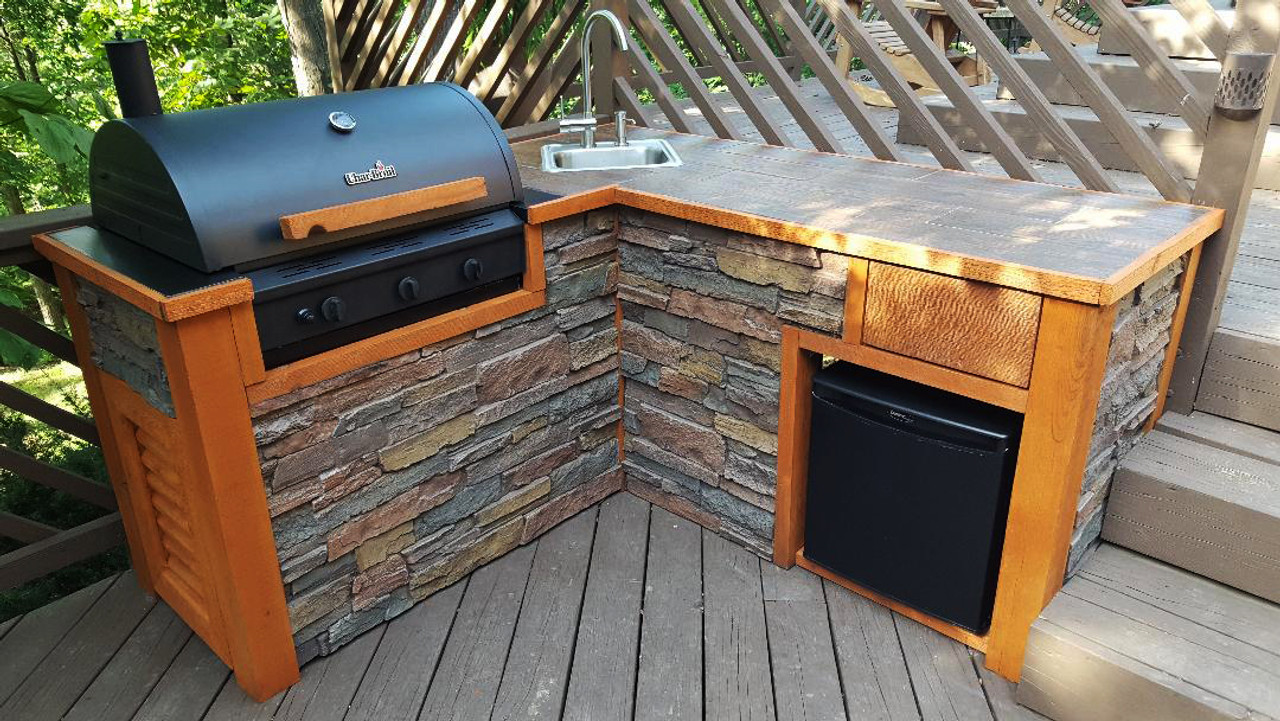 Impress your family and your guests with an upgraded outdoor kitchen or bar surround. The natural look and texture of faux stone and brick panels seamlessly blend in with the natural surroundings of your backyard.
If you live in the city, Fargo dry stack faux stone can bring a little bit of nature to your home.
How To Install Faux Panels Over Tile
Below is an overview of how to install faux panels over tile. When you're ready to install, be sure to follow our detailed adhesive-only instructions.
Before getting started, gather the following tools and materials (most of which you may already have on hand).
Caulk gun
Chalk line/laser
Clean cloth
Color-coordinated textured caulk'
Cotton swabs
Disposable gloves
Great Stuff applicator gun
Great Stuff pro gun cleaner
Great Stuff pro construction adhesive
Level
Loctite PL Premium 3X Construction Adhesive
Panels
Pencil
Safety glasses
Small paint brush
T-square
Tack cloth
Tape measure
Touch up kit
Water
Wood cutting saw with finish blade
Once all of your materials are gathered, grab one of your panels and lay it so that the flat lip on the long side (A) is up. If the fingers project to the left, your installation will run left to right. If the fingers are on the right side of the panel, your installation will go right to left.

1. Orient your panels and determine installation order
Look at any authentic stone or brick wall. You'll notice that the depth of the colors and textures vary throughout. The same concept applies to faux panel installation. Variation from panel to panel is key to achieving a realistic look.
Plan your installation order by laying your panels out on the floor to make sure no one section looks too similar or draws the eye.
If your panels have "A" and "B" stamped on the flat lip (A) to indicate the different molds, it is a good idea to alternate between A and B panels during installation.
2. Prepare your surfaces
Check your tile for structural integrity. The installation surface must be in good, sound condition.
Next, wipe your tile and the backs of each panel with a clean cloth to remove any dust or debris. Panels adhere best to clean surfaces.
3. Trim your first panel
If you're installing interlocking corners, you can skip this step.
Turn your first panel and mark when you intend to cut it. Using a wood cutting saw with a finish blade, trim off at least ¼ of the panel to reduce waste.
4. Draw a level line
Find the high point on the floor using a level. Place a full-size panel against the wall and mark the height. Extend that level line across the length of the wall. This will help keep your panels level during installation.
5. Apply adhesive to the panel
Using your applicator gun and construction adhesive, apply adhesive to the back of the panel in vertical lines starting 2" from the edge and in 6" increments along the interior of the panel. Then, add a dab to the back of each panel finger.
6. Adhere panel to the tile
To ensure a tight bond, use a slight twisting motion. Make sure the panel is level, lines up with the level line you drew in step 4, and is lined up with the edge of the wall.
7. Add adhesive and caulk
Apply adhesive to the lip of the panel about 1" from the face.
Then, apply a bead of textured caulk where the face meets the panel. Use a damp cloth to remove any excess adhesive or caulk before moving forward.
Caulk must be added during this step to protect it against water damage and to achieve a more realistic appearance.
8. Repeat steps 5-7
Fit the panels tightly together while following your level line. Trim panels as necessary. The last panel of the row will have to be trimmed from the finger side.
9. Start the next row
Start your next row directly above the first panel you installed. Trim the first panel of the next row so the seams will be offset for a more realistic look.
Before installing a panel on the next row, apply adhesive to the top lip of the panel below it. Make sure each panel fits tight with the panel below.
10. Touch up as needed
You're almost there! Grab your touch-up kit and follow these tips to achieve a natural look.
If you have any areas where a panel butts up against another surface, like an adjoining wall, add a bead of caulk to seal the joint.
If your touch-up kit contains a base coat, use a cotton swab to apply a light layer of the base coat and allow it to dry completely.
With your paintbrush, apply the coordinating paint, then dab it with a soft cloth to blend and allow it to dry completely.
If your touch-up kit contains a wash, apply the wash using a paintbrush and dab it with a soft cloth to blend.
Pro Tips for Fitting Wall Panels Over Tile
These helpful tips will ensure a successful installation of wall panels over tile.
At least 24 hours before installation, place your panels on a flat surface in the installation area. This will help acclimate your panels to the environment.
Great Stuff Pro Construction Adhesive adheres best to the grout lines in the tile. If possible, align the adhesive to the grout for a secure bond.
Use fine grit sandpaper and rough up the surface of the tiles so that the adhesive has something extra to bond to.
Before cutting a full-size panel, check to see if a previously cut panel can be used to finish a row. This will help reduce waste.
Discover Wall Panel Design Ideas
Faux wall panels are nearly impossible to distinguish from real brick and stone. They're easy to install, affordable, and versatile, too.
So, if you're ready to start planning your home transformation, click below to check out more design ideas and inspiration