Looking for a simple and affordable way to add a little extra appeal to your mobile home? Modern faux brick and stone exterior siding provides mobile home owners a quick and convenient way to stand out from the crowd.
Mobile and manufactured home skirting is most commonly made from steel or vinyl panels designed to match the existing exterior of your home. However, today, you can find realistic, affordable alternatives in faux brick and stone exterior siding. This siding is made of durable and flexible polypropylene and it's opening up far more options for homeowners.
In this guide, we'll take a look at the benefits of choosing quality exterior siding as skirting for mobile homes, and describe the steps typically required for a finish that will enhance the value, appeal, and durability of your mobile home for years to come.
Benefits of Mobile Home Skirting
Installing mobile home skirting is more than an aesthetic choice. Quality siding, whether faux brick or faux stone comes with a number of practical advantages:
Durability: Skirting deters pests and helps to protect underneath your home, protecting its value and extending its life.
Lasting Aesthetic Appeal: Faux options outperform many traditional skirting products, elevating your home's appeal for years without cracking, fading, warping, or peeling.
Cost-Effectiveness: Add real value to your home without breaking the bank.
Easy Installation: Incorporating skirting is quick and easy, making it a great weekend DIY project.
Compliance: Skirting options often meet or exceed local building codes and mobile home park and home association regulations.
Preparing for Skirting Installation
Before starting work, take time to prep space around your home. This helps to ensure a smooth installation process and better-looking and longer-lasting results.
Begin by clearing the area around your mobile home's perimeter of any debris or obstacles that could get in the way. The more level the ground is under your home, the easier the installation will be, so consider grading or backfilling areas to make the surface as even as possible.
Also check for any existing fixtures, pipes, or wires that might interfere with the installation. You'll want to plan ahead to accommodate these elements while ensuring they remain accessible for future maintenance.
Tool and Materials
Make sure you have all the equipment you'll need before starting work. Having the right tools on hand will ensure a smooth-running project and more professional-looking results.
Tools manufacturers recommend for siding installation include:
Hammer
Nails
Box level
Measuring tape
Circular (Miter) saw
Siding panels
To calculate the number of panels you need, you will want to measure your mobile home's perimeter. Check out our quantity calculator to calculate the correct amount to purchase. You'll also need strapping strips, starter strips, corner bases and trim, and nails.
Installing Mobile Home Skirting in 6 Steps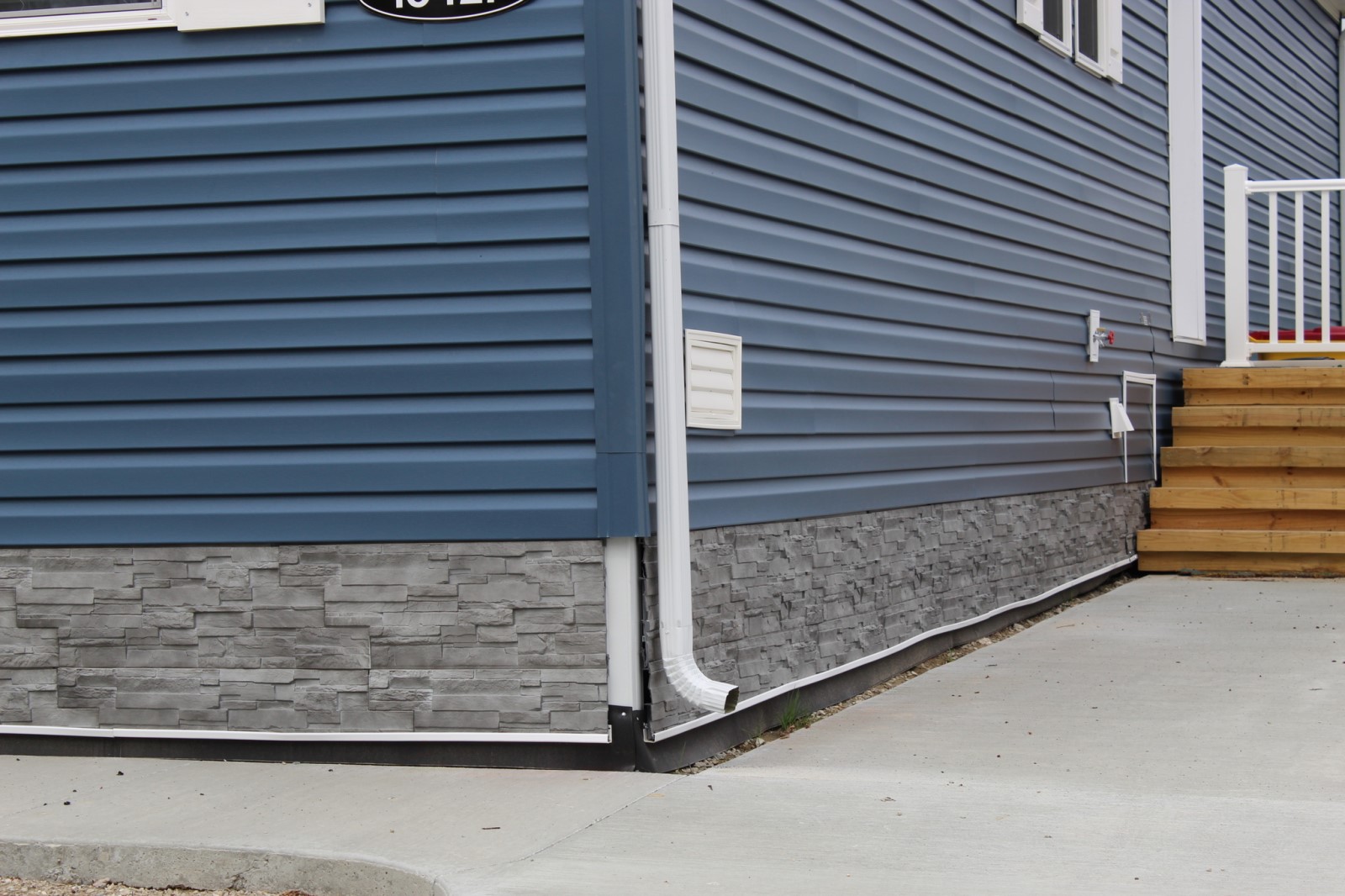 You've prepared the area, gathered your tools, and picked out your panels. You are ready to upgrade. You're ready to get to work.*
1. Prep Your Support Structure
Use horizontal and vertical strapping strips to build a framework beneath your home to support your siding. Make sure to leave the required ground clearance for siding required by your local building codes, as determined by winter weather conditions.
Also, remember to leave a gap for future access to the underside of your home through a removable panel.
2. Build Your Framework
Attach the first horizontal strapping to the bottom of the home to the required length and install all vertical frames needed. Vertical strapping should not be more than 36" apart.
Add a second horizontal strapping at the lowest point of the structure or in line with the nailing channels on your siding panels. Where necessary, stake the suspended support framework to the ground.
Finish the top edge of the structure with an inverted J-channel or other finished trim piece. To cut strapping material, use a circular saw with a finishing blade.
3. Lay Starter Strip
Install a starter strip at the lowest point of the structure so that it is set at a maximum of 1" from the corner wall, allowing for the width of the corner piece. Ensure it is perfectly level and square and nail it down every 12''.
4. Install Your First Panel
Work from left to right. Cut the panel's left side in a straight line. Measure the wall to work out where to cut your first panel to have a very small piece at the right end of the wall. Insert the first panel into the starter strip and slide it in the J-trim corner.
If you have to cut the bottom of the first row you will need to secure the bottom of panels by nailing it directly to the horizontal strapping rather than the starter strip.
Choose an inconspicuous spot in your panels, and pre-drill holes wider than the nail but not as wide as the nail head. Each full-length panel must be secured by five nails.
5. Add Further Panels
Line up the next panel, allowing for expansion spacing of about ¼" per joint. Use five nails to secure each panel, hammering them in the middle of fixation holes. Place nails in the center of the oval fixation holes and do not hammer them completely home to allow the panel to expand.
Align the next pattern and repeat until you are done. Be sure to cut the first panel of the next row at a significant increment from the first row to stagger the seams.
Remember also to leave a removable section for ventilation or underside access in line with local code. Panels can be cut to install access points and vents when necessary
6. Decorative Brick and Stone Corners
If your design includes decorative brick or stone corners, these may need to be secured by corner bases that are installed once starter strips on both walls are in place. Make sure the starter strips on both walls are the same height.
Then add the decorative corners once you have finished installing the panels. These pieces will either attach to the corner bases or will simply into the starter strip or the corner piece below it.
*These steps apply to Novik Exterior Siding but most other siding products will have similar installation procedures.
Faux Finish, Real Quality
At AZ Faux, our faux brick and stone exterior siding is made of durable, molded polypropylene and is a great alternative to the traditional siding used in most mobile home skirting products.
Choose from our wide range of warm, inviting exterior siding products in realistic brick and stone finishes, or consult our handy color guide. We also have the rails, vents, and other accessories you need to ensure your siding lasts well and looks good for longer.
Click below to learn how our siding products can help you add real value to your home at an unbeatable price.