Ceiling beams are one of the most striking architectural features a home can possess, adding warmth, depth, and richness to just about any room.
Unfortunately, installing solid wood beams is often impractical due to their expense and weight. Luckily, faux ceiling beams can offer the same look without the high price tag and difficulty associated with real wood.
Aged & Contemporary Faux Ceiling Beam Styles
Whatever your home's style and your personal taste, there's almost certainly a fake ceiling beam to match your vision.
Here are the styles and textures that fake ceiling beams can offer your next project.
Aged Beams
Trying to evoke classic style and old world craftsmanship in your home? Look no further than these aged faux ceiling beam styles.
Whether your home is an American Colonial or embraces Victorian style, these faux ceiling beams can help the interior of your home complement the exterior.
Magnolia Beams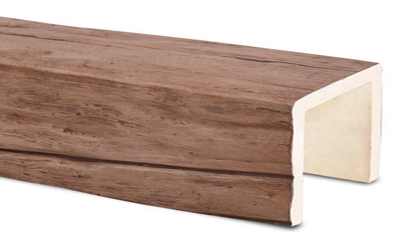 These fake wooden beams offer a natural, rustic feel to your design. This popular, distressed wood texture creates a beautiful, authentic look, and adds versatility and comfort to any interior or exterior design.
Finishes can range from log and sable to fresh coffee and burnished, providing homeowners with a wide range of options and looks. The edges on these beams are rounded, making them look as though they were actually hewn from a log. This style is perfect for a rural country home--or a suburban home looking to capture the feel of the countryside.
Old Tuscan Beams
Looking for a beam option that can bring old world charm to your home?
Old Tuscan faux ceiling beams embody the essence of Mediterranean style, and they work beautifully with a range of architectural styles from Italian to eighteenth-century American.
Like Old Timber beams, these faux beams are highly distressed, with "axe marks" that make them look as though a craftsman shaped them by hand. Old Tuscan beams are perfect to use as a complement with a fireplace mantel or as part of a truss system, and they come in a wide range of finishes from espresso to oak.
Hewn Beams
Real hand hewn wooden beams are stunningly beautiful, reflecting the dedication and the skill of the craftsman who shaped fir logs into wooden beams using nothing more than a hand axe and sweat.
A true American style, hewn beams reflect the realities of life of the American settler who had to build their homes themselves--and these faux ceiling beams in the hewn style offer all of that beauty and style at a mere fraction of the price.
Contemporary Beams
Of course, newer-style homes may benefit from the beauty of faux ceiling beams, too.
These contemporary fake ceiling beam styles can create a loft-like feeling in your living room or provide height and depth to your kitchen and dining room.
Saw Cut Beams
As the name implies, these fake ceiling beams are made to look as though they were cut by an old sawmill. The beauty of saw cut beams is that they work in a variety of applications, from simple ceiling beam designs to complicated truss systems.
The range of finishes combined with their pleasantly rough grain makes these beams suitable for many architectural and interior styles as well.
WORN GRAIN BEAMS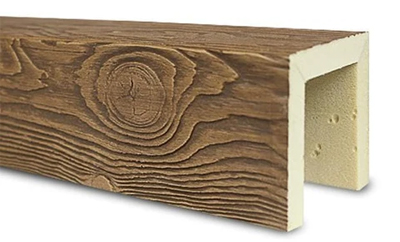 Our Worn Grain custom faux wood beams have a deeply pronounced, heavily sandblasted look, with strong accents and eye-catching detail.
With its highly realistic look and dynamic wood grain texture, these beams are sure to bring warmth and beauty to any room in your home or business.
Woodcrafted Beams
For homeowners who prefer the subtle look provided by majestic beams but would like slightly more texture, woodcrafted beams fit the bill perfectly.
The clean lines combined with the strong wood grain texture make these fake ceiling beams a good fit for rooms that straddle the line between classic and contemporary, and they work well in spaces like kitchens, great rooms, and outdoor living spaces.
With a wide variety of finishes from mahogany and espresso to oak and light walnut, woodcrafted beams are truly one of the most adaptable architectural features that you can add to your home.
OLD BARN BEAMS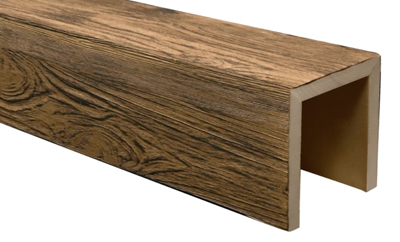 Our Old Barn faux wood beams feature the weathered, perfectly-aged appearance of reclaimed barn wood, highlighting the same beautiful grain lines and texture of the real thing. These beams are great for trusses, or as interior and exterior accents.
These faux ceiling beams have a strong and deep grain, evoking the look of old barn wood. However, unlike old timber beams, these beams are cut with strong squared edges rather than weathered rounded edges, making them a better fit for clean contemporary spaces.
Wind Drift Beams
Love the look of wood grain with its swirls and knots? Then wind drift beams are for you!
Ideal for beach homes and seaside cottages, these faux wooden beams also work perfectly in any suburban home that wants to capture that coastal style all year round. The vintage feel of the beams perfectly represents some of the biggest home interior design trends of the moment while still remaining timeless and classic.
Choosing Among Fake Ceiling Beam Styles
Clearly, no matter the style of your home, there's a faux ceiling beam to match it.
Even better, these fake ceiling beams can provide your home with all the beauty and richness of wood at a mere fraction of the price.
You may also be interested in these related articles: